Ravens trade McKinnie to the Dolphins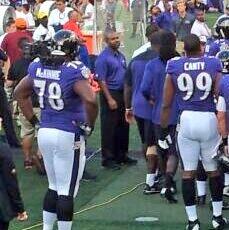 The Baltimore Ravens have traded offensive tackle Bryant McKinnie to the Miami Dolphins according to Jay Glazer. This move comes as no surprise, McKinnie has been disappointing this year for the Ravens and the Dolphins needed an offensive tackle. McKinnie was replaced by Eugene Monroe after the Ravens traded for Monroe a few weeks ago.
McKinnie was inactive for the second week in a row on Sunday against the Pittsburgh Steelers and was criticized for his involvement in a party for his birthday that led to Jacoby Jones getting in an incident in Washington DC.
In my opinion McKinnie has shown a lack of leadership for a veteran player and has been a bad influence on teammates. The Ravens finally were fed up with McKinnie and his poor play. McKinnie also had a problem keeping his weight down and failed his conditioning test when he got to training camp.
Here is the tweet from Jay Glazer that broke the news. No word yet on what the Ravens are getting for him.
Update: The Ravens will get a conditional draft pick according to Jeff Zrebiec.
The Miami Dolphins, who've been dealing w o-line trouble, have traded with the Ravens for Bryant McKinnie according to Ravens sources

— Jay Glazer (@JayGlazer) October 21, 2013
Please follow and like us: