Ravens running game struggling: the problem and how to fix it
The Baltimore Ravens have struggled on offense the past two games and they have struggled running the ball all season.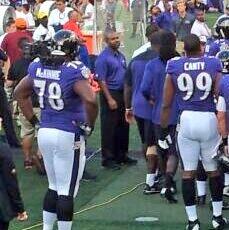 The Ravens rushed for a total of 75 yards against the Houston Texans and averaged 2.4 yards a carry, not good.
Against the Cleveland Browns the Ravens rushed for 99 yards but only averaged 2.8 yards per game. They averaged the same yards per carry against the Denver Broncos.
An average of three yards is not good and it is not helping Joe Flacco and the passing game.
Bernard Pierce and Ray Rice are not to blame, they are good running backs. The offensive line has struggled to make running lanes.
The offensive line is not bad talent wise but Brandon McKinnie has struggled and is a big factor. McKinnie had two back-to-back face mask penalties against the Texans.  McKinnie has also been a bad influence off the field, aka the Jacoby Jones incident on Sunday night.
They are also missing the leadership of Matt Birk, who was not the blocker he once was but he was effective.
The Ravens offensive line needs to play harder and tougher and Vonta Leach needs to be used more. Leach is vital to the Ravens running game, the bulldozer opens up lanes.
The Ravens have gone up against some big defensive lines this season so far but that should not be an excuse.  The Ravens have always been able to run the ball and having the run game shut down has greatly hurt the offense.  Without a running game defenses are going to key off on Flacco more and more.
Please follow and like us: