Uniformity: (XFL) The DC Defenders
Featured image from https://twitter.com/XFLDefenders
Welcome to Uniformity, where we take a sometimes too serious/ or comedic look at Baltimore, Washington DC, Pittsburgh or any other sports uniforms that matter to me. I am your hack writer and uniform/jersey nerd.

So today we are taking a look at the XFL DC Defenders that will be kicking off on February 8th, just after the NFL wraps up, let's pray it makes through a full season, unlike the AAF.
The DC Defenders will play at Audi Field in DC, a 20,000 seat stadium, the smallest in the league, and will be in the East Conference with New York, Tampa, and St. Louis.
Their team's colors are Glory Red and White, so let's get to it
Images from XFL on Twitter
First the Road Whites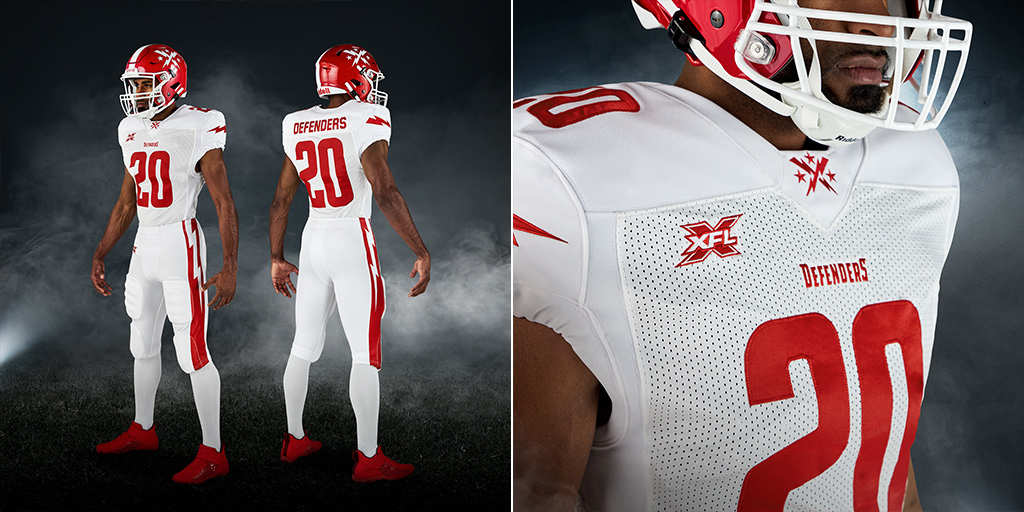 A very clean two-tone look for the Defenders with a Glory Red helmet, white top with red numbers, red letters, white pants with a red stripe down the side and a lightning bolt going through it. A very simple look, as the red, will pop of these uniforms on the road, making a pleasing view to the TV audience. However, this two-tone look is very basic and bucks the trend of red, white and blue of DC sports (See Nationals and Wizards) My only gripe is that an outline on numbers for better visibility could be added down the line, maybe a black outline or patriot blue.
Onto the Home Reds: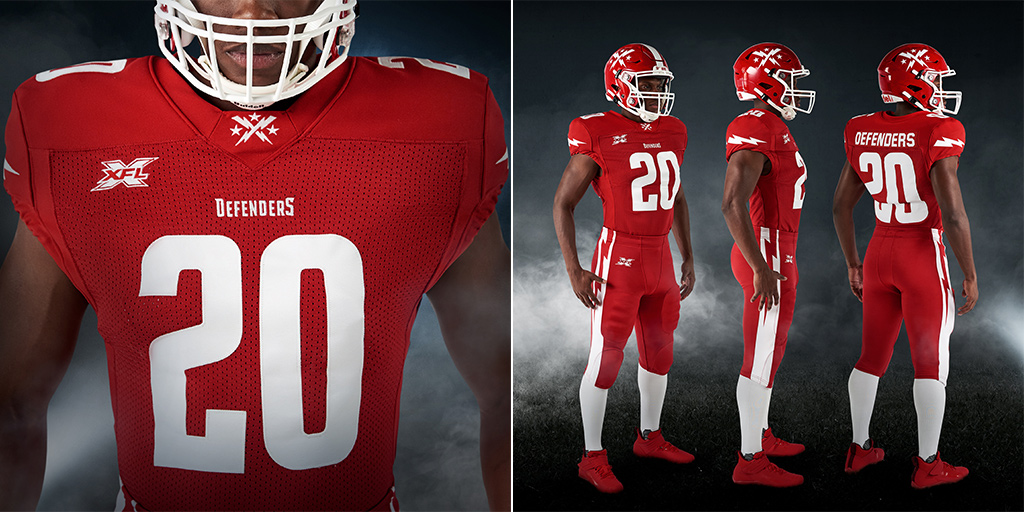 One thing is for sure, there are Red in these uniforms and plenty of it! Same Glory Red helmet with Red Jersey with a White number, white lettering and red pants with a white stripe on theses and a red lightning bolt.
A first glance, I loved it, Red is my color and my element, so this was a win for me. However the more I look at them, I am reminded of the Nationals Red Jerseys, which I also love and I have to admit, I like them for now.
The White numbers do a pop of these jerseys and the white letters on the back will make for easy readings on TV. Like the Road White, I feel a third color will be added eventually, perhaps blue or black, however for a team starting out it's not a bad look.
After seeing a video of the jersey reveal, the slimmed numbers are a bit of an issue, they appear smaller than the picture dictate. This might be a problem for TV with smaller numbers, unlike in college and NFL where numbers are bigger and eye-catching.
For a video of the said jersey from @FOXSports
Overall not a bad look, out of the XFL jerseys revealed so far, this is the most basic with Glory Red and White, sometimes that isn't a bad thing. This team could have used Red, White and Blue like other DC teams and called it a day. But the Defenders seem to make their own identity in the major DC sports market, the Defenders season will start on February 8th. Here is a link to the DC Defenders website: