EXCLUSIVE-Interview With Stingrays Alternate Captain Patrick Gaul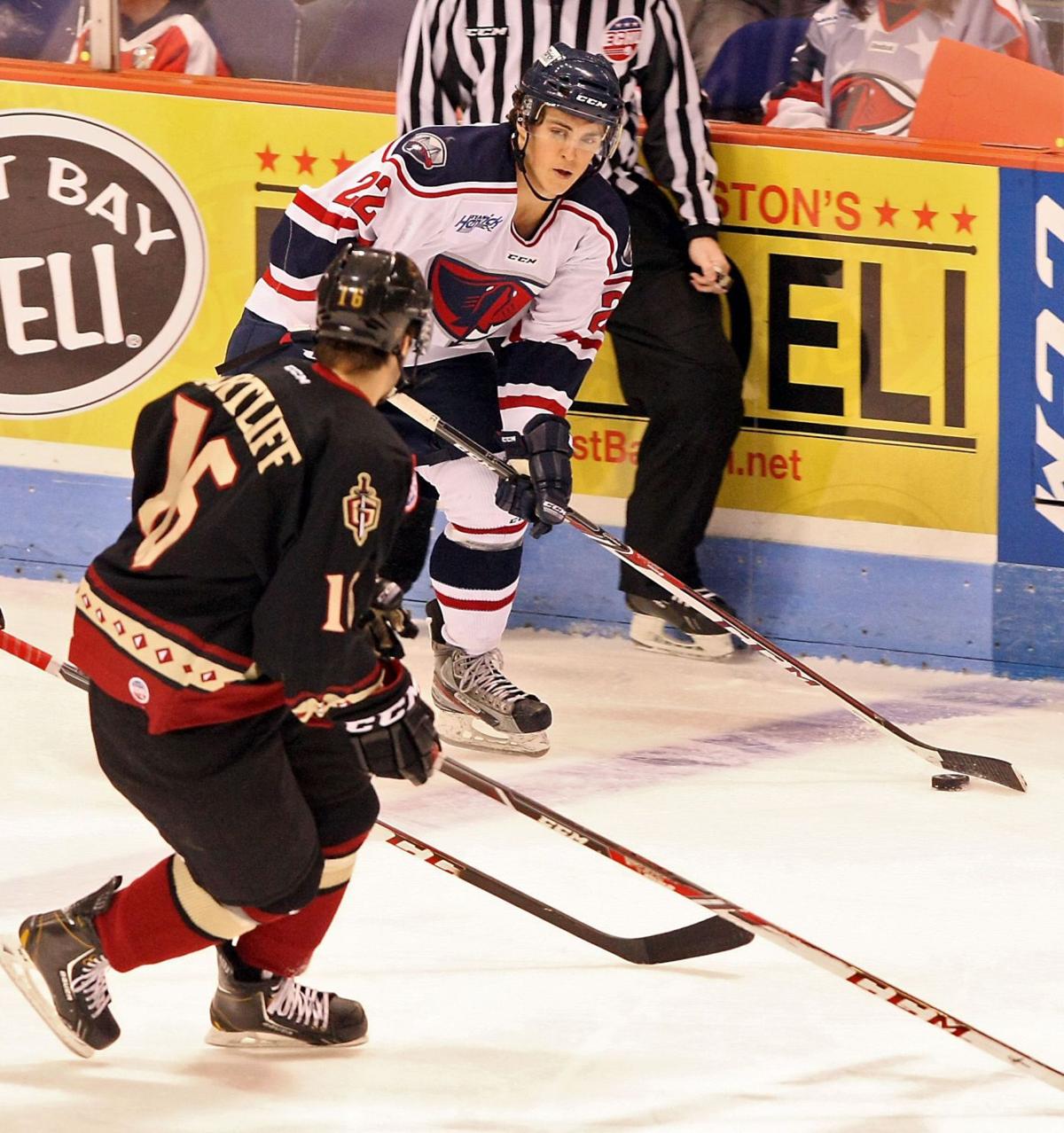 With plenty of excitement around the world of South Carolina Stingrays fans last Saturday, rumors had been flying about a major announcement. For those who don't know  the roster on an ECHL team can differ year to year. But the news broke and ths team announced that #22, the fan favorite, Patrick Gaul was heading back to the holy city.
This past week, I had the opportunity to talk to Gaul on the phone while he was heading back to town from New Jersey  where he and his fiancé are arranging their wedding plans.
Scott Vollweiler:  You decided to return to the stingrays for another season. What led you to resigning with the Stingrays and have you ever thought about venturing to another team?
Patrick Gaul: Let's let's work backwards here… so I've definitely never thought about venturing to another team in our league. I've kind of floated around the idea of going overseas at some point but haven't really seriously considered that too much. It's just you know I love the city of Charleston.
I mean, I've built so many relationships.. they're not just hockey wise but in the community and it I think it'd be hard for me to go elsewhere and have as good of a time playing and just enjoy my time anywhere else.
I was kind of on the fence towards the end of last year as to whether I was gonna play another year or not. And, you know, we just kind of felt like we had a really good season that and we just kind of fizzled out at the end and I didn't like the way that ended. I didn't want it to be that way.
I'm competitive as all hell and to get swept in the first round of the playoffs after we've had so much success just it didn't seem fitting.
SV: I'm sure you heard that the Fan Fest had this huge thing online and they were saying there's gonna be a big announcement and it turned out to be you resigning.
PG: I appreciate it. Jared Schafran reached out to me, cause I actually signed a few weeks ago but they were just they were trying to hold on to it and try and do something a little different this year an he threw that idea and I thought it was a good one. I was actually in New Jersey with my fiance's family when I recorded the video to send for that, but it would have been nice to be there but I thought it was a nice little surprise for the fans to you know, keep them keep them hungry in the middle of summer.
SV:You said that last season wasn't what you expected and none of us obviously expected that. Besides how the season could have ended, what do you see for this season? How do we change the ending?
PG: I've talked to Ryan Warsofsky about it a bit and not to, you know, not to divulge the direction he's trying to take a team in but I think we had a really good mix of guys last year but we obviously we ran into trouble in the playoffs scoring goals.
I think the reason we've had success in the past is that some guys playing the coast just want to put off getting a job or maybe they don't have a degree and can't get into something that they'd like to do yet or they don't go back to school.
I think in South Carolina, we try and bring people down that want to win and that's why we've had so much success in the past.
I'm competitive as all hell and to get swept in the first round of the playoffs after we've had so much success just it didn't seem fitting.
SV:What do you think about all those rumors that are being thrown around that coach is going to end up in the AHL and leaving the Rays.
PG: Him and I have spoken about it, if he is to leave, you know, all the guys that are coming back, are planning on coming back or might be coming back to play for him. You know, we all want the same thing. He wants us to move up to the American Hockey League. We want him to move up to the American Hockey League. So it's, you know, it's not like he's going to coach Greenville or Florida. It seemed like if he had an opportunity to further his career, we would want the best for him.. If not, we're happy to have him back.
SV: So far, what is the best moment or a career defining moment as a Stingray.
PG: It's not necessarily a moment but the winning streak we went on my third year in South Carolina. It was that's the most fun I've ever had playing hockey. I would say after we won like 10 or 11 games in a row every game from that point on was like yeah we're not going to lose this one. Like we'd be down 3-1 with five minutes left in the third period and we'd be like oh we should probably score a couple goals. It's just like the team had so much confidence.
I'd be interested to see some of the stats from that stretch because like the lowest plus-minus on our team we had I think that year was like +12. So I would say that the winning streak we had my third year for sure was awesome.
SV: What's your typical offseason look like?
PG: I don't know if I have a typical offseason. I got licensed to be a financial advisor this past December and I'm working for a company in Charleston that was started by a former Stingray.
Outside of that, it's just wedding travel and working out. I'm actually getting back on the ice for the first time this Monday. I try and put off till mid to late July and you know just really hammer it out in August.
Then, being alumni of Notre Dame, we always go back- all the guys that are still playing- go back for a week and stay together towards the end of August and that's one of my favorite weeks in the summer.
You know take a little step back from it and enjoy all the other things because during the season you don't really get the opportunity to go see family or go see friends.
SV: You're obviously a huge fan favorite. Why do you think everybody loves you?
PG:I don't know the answer. I love playing hockey. I love competing. I don't really have an on/off switch. it's just how I was raised and I was programmed. For as long as I've been here, fans have recognized that you know you never going to get a half-hearted effort out of me and they appreciate it.
SV: So you're a Pittsburgh guy. So can I assume that you root for the Pens growing up?
PG:You could assume that but you'd be wrong! My dad's originally from Philly. So I grew up a Philly sports fan through and through.
I would say I am an Eagles fan before anything and up until this year was kind of a nightmare.
And then I'm a Flyers fan and a Phillies fan as well. The only reason I like the Penguins now at all is because I have friends that play on the team so I can I can root for them and hope for their personal success
SV: What would you like to add to all the Stingrays fans out there that are just so excited to have you back on the team?
PG: I mean I would just say thanks. You know, I wasn't sure if I was going to play hockey after college- just kind of had a sour taste in my mouth. It means a lot to come down to a place where the way I play is appreciated and so just thanks for the support and hopefully we can get it done here.
Please follow and like us: