A Breakdown of The Washington Football Team's 53 Man Roster (For Now)
The Washington Football Team announced their initial 53-man roster on Tuesday afternoon for the upcoming 2021 NFL season. This is always a stressful time for a lot of NFL players especially those who are on the roster bubble, undrafted free agents, or those coming off injury. Ron Rivera and company made 27 cuts before the 4pm deadline and some came to quite the surprise of some fans. Before looking at the initial roster, let us first take a look at those notable cuts that were made yesterday: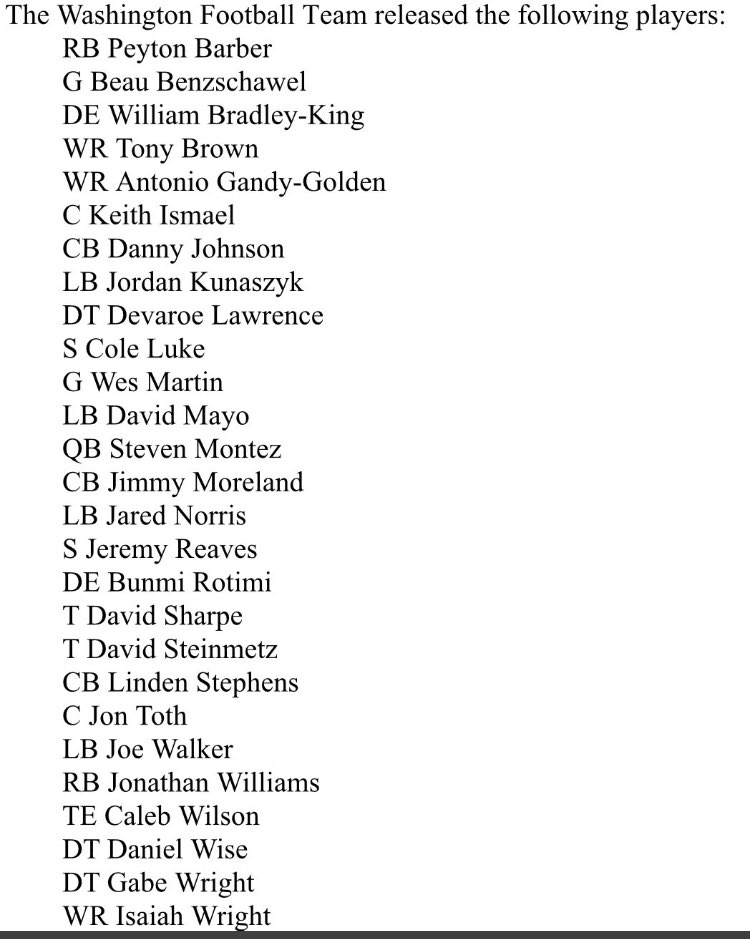 The two names that immediately confused fans were defensive backs Jeremy Reaves and Jimmy Moreland. Both players have seen a lot of action and were pivotable players on Washington's defense last season. While unfortunate to see these two walk, I think both moves make sense from a team standpoint. With Moreland, it was all about the emergence of undrafted FA Torry McTyer stepping up and having a fantastic training camp. The 6'2 corner proved he can play outside while also stepping inside to play in the slot. We have also been seeing a lot of Kendall Fuller being pushed back into the slot with the starters. Moreland also does not play special teams, so there was essentially no room left due to the depth of other positions. This goes the same for Reaves with the addition of Bobby McCain and starter Landon Collins returning from injury. I do not see Moreland coming back to the team as he will be a hot commodity off of waivers for a lot of teams, but expect to see Reaves come back to Washington on the practice squad; Rivera showed how much he loves Reaves on his team after choosing him last year over signing veteran Eric Reid.
On the offensive side of the ball, I think a lot of fans were surprised with the release of last year's 4th round pick Antonio Gandy-Golden. He is a good change-of-pace wide receiver who can go up and get the football away from defenders (6'4, 225lbs), and gave Washington the big body they needed to differentiate from the speed they had on the outside. He was sidelined for a good amount of his rookie season due to injury, but looked very good in preseason. He was fighting for essentially one spot left in that receiving core, as the first 5 were already locked in, but Rivera decided to go with the rookie Dax Milne and kick returner Deandre Carter. I would not be surprised to see AGG back on the practice squad if not picked up on waivers.
Enough about the cuts, now let's break down the actual 53 man roster for The Washington Football Team. As of the 4pm deadline Tuesday afternoon, this is what the roster is shaping to look like. I will go out on a limb and say however I do not think this is the team you are going to see come September 12th when the team plays The Los Angeles Chargers Week 1. For the sake of it, let's pretend this is the final roster: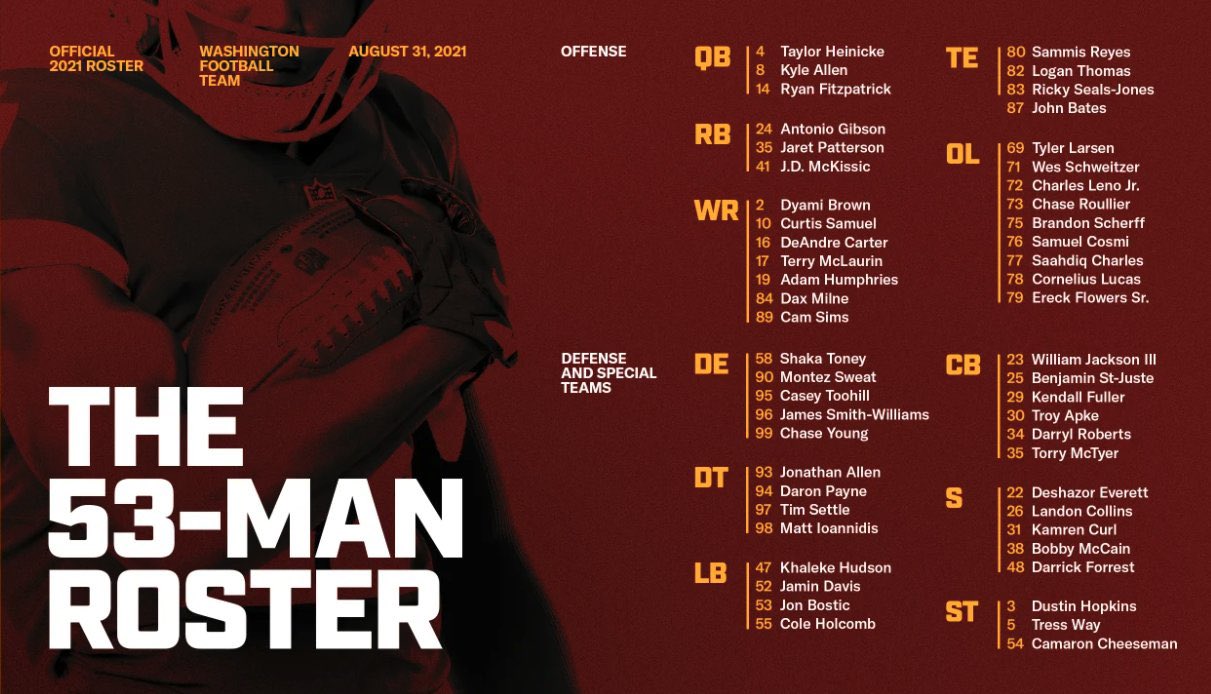 Offense (26 Players)
Quarterback
Ryan Fitzpatrick
Taylor Heinicke
Kyle Allen
Analysis: This was the given group going into the season. Ryan Fitzpatrick is going to be Washington's starting quarterback for the 2021 season, with Taylor Heinicke being his backup. Heinicke showed enough in preseason and in training camp that he can be a quality backup in case Fitzy gets injured or plays poorly. Kyle Allen will round out that group in case of emergency.
Running Back
Antonio Gibson
JD McKissic
Jarret Patterson
Analysis: Washington decided to keep its core duo of Antonio Gibson and JD McKissic together for another season (as expected). You can expect AG to take on a heavier workload this season now fully recovered from his turf toe injury and JD to handle the majority of the passing down plays. I am extremely happy for undrafted FA Jarret Patterson to claim that 3rd slot over Peyton Barber. He showed he can be a jack of all traits type of running back by catching passes, being very good in pass protection, and even kick/punt returning. When McKissic's contract is up next season, I can see Patterson taking his place as the secondary back behind Gibson.
Wide Receiver
Terry McLaurin
Curtis Samuel
Dyami Brown
Adam Humphries
Cam Sims
Deandre Carter
Dax Milne
Analysis: The first 5 names on this list were the locks to make it already. The question that was coming out of camp was if Rivera was going to keep 6 receivers or 7, and they decided to go with the latter. Deandre Carter is going to be your presumed kick/punt returner this season so he is mainly going to be here for special teams considerations with little exposure to the offense. I am very happy to see 7th round pick Dax Milne make the initial roster. He showed in camp that he can be a quality receiver out of the slot, while also proving to be a viable return man. Like I talked about with Patterson, I can see Milne taking over the slot role when Adam Humphries' contract expires at the end of this season.
Tight End
Logan Thomas
John Bates
Ricky Seals-Jones
Sammis Reyes
Analysis: Logan Thomas is going to make a massive jump this year in production with Fitzpatrick at quarterback. He proved last season he can be a leading tight end for a team and he is only going to be better this season. Look for RSJ to be the TE2 behind Thomas who showed flashes in preseason of being a good receiver of the football (8 TDs in his career). Fan-favorite Sammis Reyes also makes the 53 man roster by proving his worth as a blocker and freak athlete. He still has a long way to go in his development, but he has the traits to be a viable tight end on this roster.
Offensive Line
Charles Leno Jr.
Wes Schweitzer
Chase Roullier
Brandon Scherff
Sam Cosmi
Cornelius Lucas
Erick Flowers
Saahdiq Charles
Tyler Larsen
Analysis: The depth on the offensive line is going to do wonders for Washington this season. The starting line out there was pretty much set through camp with Charles Leno Jr. starting at left tackle, Erick Flowers at guard, Roullier at center, Scherff at the other guard, and 2nd round pick Sam Cosmi at right tackle. Left guard can go either way with Flowers or Schweitzer, but the added depth behind the starters will go a long way for this offense if someone gets injured.
Defense (24 Players)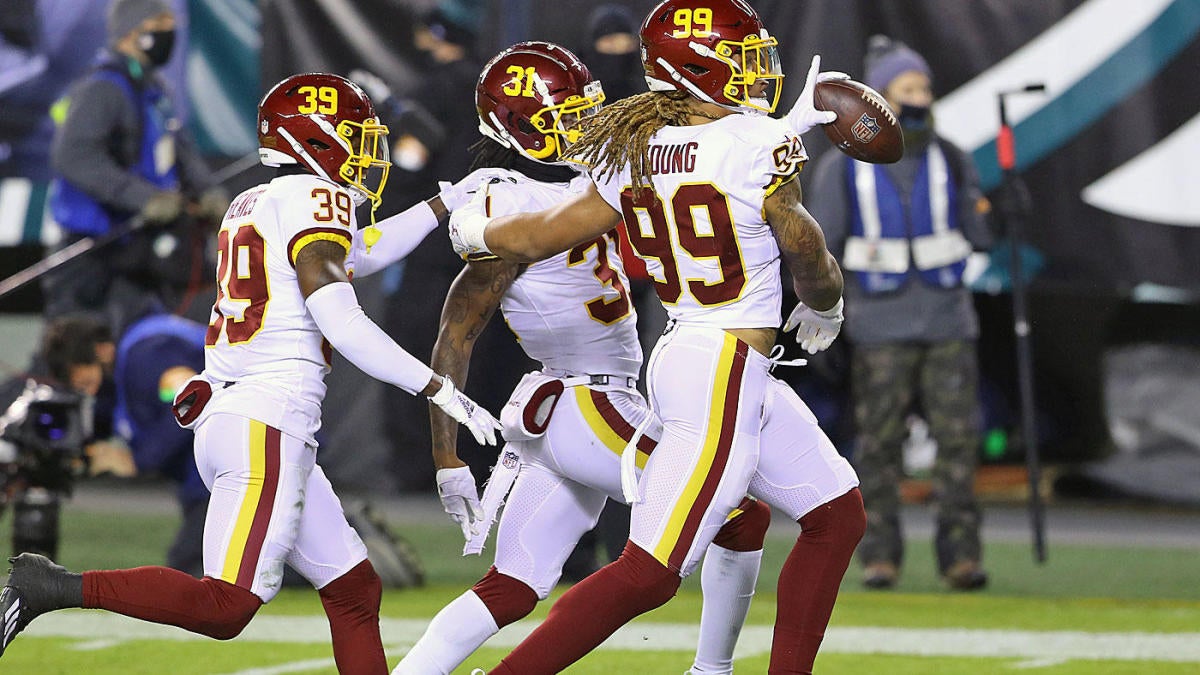 Defensive Line
Chase Young
Montez Sweat
James Smith-Williams
Shaka Toney
Casey Toohill
Analysis: This is where things get fun for The Washington Football Team. This will without a doubt be a top 5 defense this year, with potential to be even top 3. Led by the duo of Chase Young and Montez Sweat, the edge position for Washington will look a little different this season with the departures of Ryan Anderson and Washington great Ryan Kerrigan. James Smith-Williams will push to the outside after playing a lot of defensive tackle last season, and Casey Toohill/ rookie Shaka Toney will provide depth Washington needs to rotate Young and Sweat out.
Defensive Tackle
Jonathan Allen
Daron Payne
Matt Ioannidis
Tim Settle
Analysis: There is not much to talk about with the core 4 here at defensive tackle. Jonathan Allen and Daron Payne will lead the charge for the inside group, with Tim Settle and Matt Ioannidis rotating in. This is a dominant group of players that Jack Del Rio will rely heavily on the plug up the middle on the field. I wouldn't be surprised to see some defensive schemes with three of these players on the field at the same time. With Ioannidis returning from a pectoral injury and being 100% healthy, expect this group to be a wrecking ball on opposing offensive lines.
Linebacker
Jamin Davis
Cole Holcomb
Jon Bostic
Khaleke Hudson
Analysis: With every good team there is always a weak point, and this would unanimously be Washington's weak point. Ron Rivera decided to only keep 4 linebackers on the initial 53 man roster, but I do not see this being the final group going into the season. When asked about the lack of linebackers on the roster in a press conference Tuesday afternoon, Rivera replied with "we are not through with that position yet" so be on the look out for a veteran signing coming to Washington before the start of the season. Holcomb, Bostic, and 1st round pick Jamin Davis will start as the starting linebacker core come week 1.
Corner Back
William Jackson III
Kendall Fuller
Benjamin St. Juste
Torry McTyer
Troy Apke
Darryl Roberts
Analysis: Since the beginning of training camp, it appears that the starting corners are set for Washington: WJ3 & rookie Ben St. Juste on the outside, Kendall Fuller on the inside. 3rd round pick Benjamin St. Juste has been everything Rivera and Del Rio are looking for and has all the tools to be a very good corner in this league (6'3, 205 pounds). He is a big-bodied corner who plays extremely physical at the line of scrimmage. Expect to see him out there in a lot of man coverage packages. Torry McTyer has been the "diamond in the rough" player coming out of training camp and will provide great depth along with verteran corner Darryl Roberts. Troy Apke is the only question mark fans had on him making the roster due to his poor play since being drafted. I see Apke making the roster solely due to his work on special teams; Rivera even going out of his way to call Apke "one of the best special teams players in the league". So far through camp, he has showed better performance since switching to corner from safety this year.
Safety
Landon Collins
Kam Curl
Bobby McCain
Deshazor Everett
Darrick Forrest
Analysis: This might be the best group of safeties Washington has ever had on its roster in a very long time. Landon Collins is returning back to the team after a torn achilles injury, and has looked the best he's ever looked so far in camp. Kam Curl is ready to replicate his performance after a fantastic rookie season and will see a good amount of playing time at safety and in the "buffalo nickel" where he can play in the box and in the slot. Bobby McCain was signed in the offseason and will most likely start at free safety alongside Landon Collins. He is also a great depth piece due to his experience at also playing corner. Deshazor Everett and rookie Darrick Forrest round out the group as great depth pieces, and special teams contributors (Everett is the Captain of Special Teams).
Special Teams (3 Players)
Kicker: Dustin Hopkins
Punter: Tress Way
Long Snapper: Camaron Cheeseman
Analysis: No surprise here of this group. Tress Way is one of the best punters in the league and rookie Cam Cheeseman is set to take over the long snapping duties after releasing longtime long snapper Nick Sundberg. The biggest question mark going into the season was Rivera sticking with kicker Dustin Hopkins. He was 79% on his kicks last season, and only went 4/7 this preseason. His misses were not pretty either, missing by a very wide margin. Rivera was also asked about Hopkins in the Tuesday afternoon press conference and said he "is as comfortable as I could be right now". Fans, including myself, have questioned this reiterating back to Rivera's constant reminder to fans about having competition at every positions but him not having competition for Hopkins. A good amount of young kickers have been released by teams all around the team, but Washington is deciding to stick with Hopkins going into the year. That's a bold strategy Cotton, we will see how that pays off.
Final Thoughts
The Washington Football Team's 53 man roster is made up of a lot of names that fans predicted to be on this team. September 12th is under 2 weeks away, and I am predicting that Ron Rivera & company is not done making moves. I am predicting that some veteran pieces will be signed, primarily at linebacker, defensive end, and maybe even running back depending on who is released from other teams. The offense is going to take a few games to gel with one another while getting used to Scott Turner's play calling and the aggressive play of Ryan Fitzpatrick, but the defense is going to be come out of the gate and wreak havoc. Being the reigning NFC East champions, Washington is faced with an extremely tough schedule so the defense is going to be challenged early (Herbert Week 1, Allen Week 3, Mahomes Week 6, Rodgers Week 7). The offense is going to have to get going early, put points on the board, and keep that defense well-rested. Additions will be made and the team will be set, but Washington has a long road ahead of them. I believe in Ron though, and I believe in this Football Team.
Prediction: 10-7
Please follow and like us: